Roto Mold Operator
Roto Mold Operator
Sheldon Iowa area , IA
Employment Type:
Temp-to-Hire
Industry:
Manufacturing
Job ID:

005-3436
Pay Rate:

$20/hr. + $.80 Shift Differential
Job Description
$20/hr. Starting Pay + $.80 shift differential
3rd Shift Sun-Thur 11p-7:30a 5 days a week. 6 days is a possibility.
A local plastics and fiberglass manufacturing company in the Sheldon, IA area is searching for a Roto Mold Operator to join their team! Those who have prior forklift experience are encouraged to apply! Get ready to learn a whole new set of skills!
Responsibilities:
Prep roto mold ovens for use
Read shop order to determine specs for each product
Performs start up and shut down
Weigh resins in setup and monitors ovens
Ability to use hand tools
Requirements:
High school diploma or GED preferred but not required
Ability to read shop orders
Ability to operate a forklift or be trained
Ability to lift/carry up to 70 lbs.
Ability to handle frequent exposure to elements such as odors, oil, fumes and noise
Ability to handle a hot climate
Benefits and Pay:
Starting Pay: $20/hr. + $.80 shift differential
Paid Every Friday!
Direct Deposit and/or Paycards Available
Paid Holidays & PTO (Based on accrued hour requirements)
Medical Coverage - Access to affordable and comprehensive group medical coverage.
Apply online, call, or stop by today! Our services are FREE to candidates!
327 9th Street – Sheldon, IA | 712.324.2425
Have you applied to Aventure before? Great! Your application will be considered for all available job openings. Call us to put your name in for this position.
Aventure Staffing is an Equal Opportunity/Affirmative Action Employer. A drug screen and background may be required.
Interested? Contact: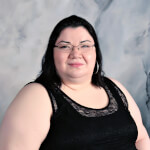 Martha Suarez
Bilingual Employment Specialist